Marie curie fellowship – SMART LANLIGHT

 Starting 09/2016 to 08/2018
The project SMART LANLIGHT will develop a new technique for measuring nearfield optical properties on nanostructures based on the use of a levitating trapped nano-source. We will use -but not limited to- a lanthanide doped particle as the nano-emitter. Specifically, lanthanides are sensitive to both optical electric and magnetic field so that full understanding of the optical near-field properties is achievable, in an unprecedented way. We then plan to employ this new technique for investigating nanolight-matter interactions on technologically important nanostructures such as optical antennas, nanophotonic circuits, metamaterials etc… This new and original probing technique will open the ways to a large variety of applications such as high resolution imaging of nanophotonics components (nano-optical circuiterie, spin domain …) or biological samples but also e.g cancer diagnostic and therapy since lanthanide can be used for tumor cell detection and photodynamic therapy.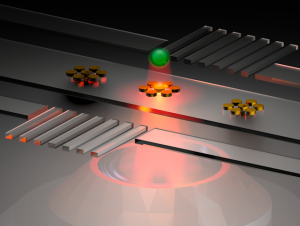 Fluorescence in nanotrap project – (ERC ExtendFRET)

From 11/2011 to now
---
Postdoctoral work at ICFO
From 11/2011 to 10/2015
Plasmonic Nanotweezers:
Plasmonic fields are engineered to design the next generation of optical nanotweezers capable of trapping and manipulating non invasively nanosized objects.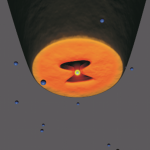 Related publications:

Optomechanics with nano-objects:
At the frontier between nano-optics and mechanics, we investigate novel nano-optomechanical systems as platforms for ultrasensitive metrology and fundamental quantum mechanical studies. Activities include trapping and cooling of nanoparticles in vacuum.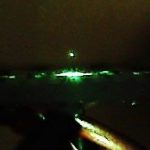 Related publications:
Thesis at ICB (File)
From 10/2008 to 10/2011
Plasmonic tuner:
In this project we decided to fabricate a plasmonic tuner controle by an external electrical command and based on optical antenna. Optical antennas are elementary units used to direct optical radiation to the nanoscale. These objects are passive devices and their optical properties are defined by the fabrications processes and surrounding environment. Here we demonstrate an active control over individual antenna performances by an external electrical trigger. To obtain this result, we immersed the optical antennas in a birefringent liquid medium. This medium has the particularity of changing the refractive index of the surrounding medium by applying and external static electrical field. We find that by an in-plane command of an anisotropic load medium, the electromagnetic interaction between individual elements constituting an optical antenna can be controlled, resulting in a strong polarization and tuning response. An active command of the antenna is a prerequisite for directing light wave through the utilization of such a device.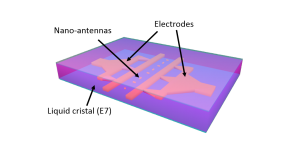 Related publications:
Electro-plasmonic transduction :
In this project, we were interested by the development of electro-plasmonic sources, in other words a source of surface plasmon excited electrically. In this aim, two different approaches have been studied: the first one concerns the use of carbon nanotube in a field effect transistor configuration, and the second tunnel junctions made with electromigration process.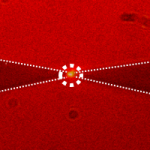 Related publication:
Plasmonic waveguiding:
In this project, we aimed at control the light at the nanoscale. This is possible with plasmonic waveguides. We study the propagation over different geometry of waveguide and found the conversion of a 2D plasmon into a one-dimensional wave through the edge of the structure.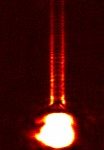 Related publications: