This page is dedicated to the presentation of a new emerging tool. I am talking about 3D printing.
You will find here a brief presentation and few advices/tricks to start 3D printing.
I hope it will help you. Don't hesitate to contact me if you have questions or comments.
1. 3D Printers
I am using at home a 3D printer kit from Makeblock, which is not available anymore but they have nice other products, and the Ultimaker 2 at work. Both systems are based on Arduino electronic board and have their strengths and weaknesses.
This printer is amazing! It's actually very easy to print, the maintenance is almost non-existing and the quality of the printed part is extremely good. Of course all this as a price. The cost of this printer is around 2000€. You can find more information about this printer here.
Within this printer it's possible to print objects with these dimensions: 223 × 223 × 205 mm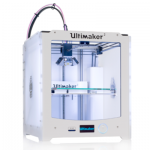 This printer looks less professional than the Ultimaker 2, however the results obtained with that one are equivalent. The main advantage of a kit is the possibility of customizing it as you like.  As an experimental scientist, this choice suits me very well. in fact my printer is already customize. Compared with the original kit, my printer has a heated bed, and soon will be able to print with 2 nozzles.
For the moment, with this printer I can print objects with these dimensions: 135 x 160 x 135 mm. I don't think I will change that in a near future but who knows…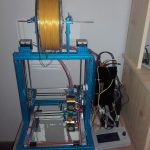 2. Plastics
It exists a lot of different plastics available for 3D printing and maybe the same number of providers. The cost of 1kg of plastic cost around 30€ which can last for approximately 1 years (depending of your consumption obviously).
I will not give a complete list of plastics but you can find it here. They are providing a lot of useful details. I mostly use PLA, Filaflex, and a bit of ABS.
3. Softwares
To realize the 3D printed pieces I use the free software Cura, which is the dedicated software of Ultimaker. I can also use this soft to print with my own printer. This is very convenient. The system is capable to load different machines and store the properties of each of them. The other advantage of this freeware is the possibility to have it on any operating system: Linux, Macintosh and of course Windows.
However the database of 3D files is huge, but it's not 100% sure you can find what you want (just 99%). For that reason it's necessary to draw your own piece. Depending on what you prefer it exist many software (freeware, license) that you can use. The file format used for 3D printing is "*.stl".
Cura is easy to handle and not perfect of course. It's a Python interface and can be improve with the use of different plugins. Depending on the mode you are using, you will have different parameters accessible. Unfortunately the plugin are not available anymore on the web, but I might have them on one hard drive of a old computer. I will put them in the FTP section (for registred member only).
4. Goodies
Useful database for 3D printing:
Step file conversion for 3D printing:
Most of provider of optical components, mechanical pieces are freely proposing "*.step" files. However editing or converting these file can be difficult if you don't have access to the correct software (Autodesk inventor, solidworks etc…). Few people know that it exists a free alternative with Freecad. I will guide you here in order to convert step files into "*.stl" files that your printer can easily handle.
Install the version of Freecad corresponding to your operating system (Windows, Linux or Mac) Link
Follow the instructions for the installation. No traps here.
Open the software
Download a step file and open it in Freecad.
Choose the part you want to export on the tab on the left (look the image).  Use the combination "Shift + left-click" or "Ctrl + left-click" to selects the parts.
For example in the thorlabs file you have all the screws and pieces that you don't need for the "*.stl".
Afterwards go to the menu "File/Export", select the type of file as " Mesh formats (*.stl,*ast,*.obj,*.off,*.ply)".
That's it you have converted the "*.step" file into an "*.stl" file. You can now print it.
Glass slide holder:
For the purpose of my work I decided to fabricate a glass coverslides holder with my 3D printer. I made it for ∅25 cm, but it's possible to change it.
Here are some picture of the object inside water with 2 coverslips: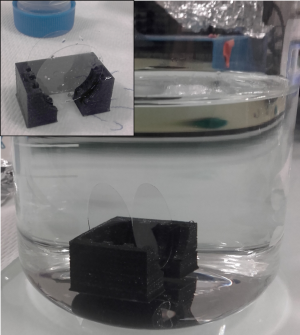 So I made a version for 3 glass but it can be expanded. The file is located in the FTP section (only registered member) or at this address.
I used these parameters to print it:
Printer: Ultimaker 2
Material: PLA
Nozzle size: 0.4 mm
Layer: 0.1 mm
Temperature Bed: 70°C
Temperature nozzle: 215°C
Print speed: 50 mm/s
Shell thickness: 0.8 mm
Fill density: 100% (necessary for not floating)
Support: None
Platform adhesion: Brim
The total time is less than 2 hours to get the piece.